Newsletter/Blog
2016-02-27
Organiese Lamsvleis Pretoria
Ons lewer organiese lamsvleis in Pretoria af. Ons lamsvleis is regtig lamsvleis en nie skaapvleis nie. Pretoria het baie uitstekende slaghuise maar aangesien ons direk vanaf die platteland aan die publiek lewer (higiënies geslag in geregistreerde abbatoir) is ons pryse vergeleke met ander verskaffers van Pretoria baie kompeterend. Ons lewer maandeliks in Pretoria af.
Voordat jou lammer jou in Pretoria bereik het die lammers vry rondgeloop en geen hormoon aanvullings gekry nie soos wat dikwels gebeur by voerkrale.
Hier is bietjie meer inligting oor lam en skaap vleis:
Ons begin by die rolmerk wat op die lengte van die karkas aangebring word: Dit bestaan uit letters en syfers in verkillende kleure.
Pers AAA baie jong dier
Groen ABAB jong dier 1-2 permanente tande
Bruin BBB ouer dier 3-6 permanente tande
Rooi CCC ou dier 6 permanente tande
Die syfers dui die vetinhoud aan
000 geen vet
111 baie maer
222 maer
333 medium
444 vet
555 effens oorvet
666 baie vet

Vir braai is AAA 222 die beste, maw lam,maer.
Vir kook en bredie is BBB 333, skaap medium vet goed, en tot R10,00/kg goedkoper as jy 'n heel karkas koop.
Vir 'n gesin is dit baie ekonomies om 'n heel karkas te koop, dui gerus jou keuses aan op jou bestelling of neem jou snit na jou persoonlike slagter
Snit # 1 Nek/ Neck
Nek geskik vir potjiekos, of stowe gereg. Use slices for potjies or a braised dish, serve a tender, whole neck as a special treat.
Snit #2 Thick Rib/Dikrib
Lamb chops are mostly grilled while thick rib mutton chops are braised. Die dikrib tjops (vir braai) is minder gesog as ribtjops en lendetjops, so die voorkeur is om dit eerder vir kerrie of stew te gebruik omrede dit baie been bevat. Mutton can also be cut into cubes for stews while lamb cubes can be used for kebabs.

Snit #4 Shoulder/Blad
Blad heel gebak in die oond is een van die sappigste snitte in die karkas. Shoulder deboned and rolled, can be oven roasted while mutten shoulder should be pot roasted or deboned and butterflied for oven roasting or grilled over the coals. Cubed meat can be used for kebabs. Jou slagter sal dalk ekstra vra om die snitte te ontbeen en te rol, of butterfly.
Snit #3 and 5 Flank/Lies and Breast/Rib
Rib op die kole is geneig om baie vet te drup wat vlam vat, dan is die vleis swart gebrand voor dit gaar is, derhalwe word aanbeveel om dit met olyfolie en suurlemoensap te marineer, bak dit in aluminium foelie in 'n matige oond vir 'n uur en plaas dit dan op die kole om bruin te braai en die braaivleisgeur te kry. Van die lies/flank kan mens 'n heerlike rol maak. Rolls can be pot roasted or cooked in aliminium foil. Salted ribs can be prepared from the rib portion, or cubes (25mm) can be used for casseroles or stews. Deboned lamb breast cut into 25mm strips is ideal for concertina kebabs.
Snit #6 Rib
Ribtjops is die mees gesogte tjops vir braai.The ends of a whole rib of lamb can be Frenched (i.e remove all cartilage fat and meat from the first 25 mm of the rib ends, and use for oven roasts such as rack or crown roast.
Snit # 7 Loin/Lende
Die mees gesogte snit en ook die duurste. Dit verskil van ribtjops in die sin dat lendetjops korter is en soos 'n klein T-been lyk met vleis weerskante van die been. Loin can be oven roasted or chops can be cut for grilling. It can be deboned, rolled and secured with skewers and then cut through the meat between the skewers to make Saratoga chops for grilling. Noisettes can be made by removing the eye muscle, then tie with a string at 25 mm intervals and cut through the string.

Snit #8 & 9 Kruis/Chump and Boud/Leg
Die heel boud en kruis maak `n heerlike oondgeroosterde gereg. Chump can be cut into chops and grilled but is best to leave it as part of no 9 the leg, which leaves you with a nice large leg of 2.5 to 3kg. Leg van be kept whole for pot roasting or deboned and butter flied or made a roll with stuffing. Cubes, 25mm can be cut for kebabs or excellent curry.
Snit #10 Skenkels/Shank
Die skenkel kan heel bedien word of opgesny word vir smoorgeregte en bredies. Omdat 'n lam maar min skenkel het kan dit met die nek gekombineer word vir potjies. Whole lambshank is delicious as a braised dish.
Met vergunning van Frans Odendaal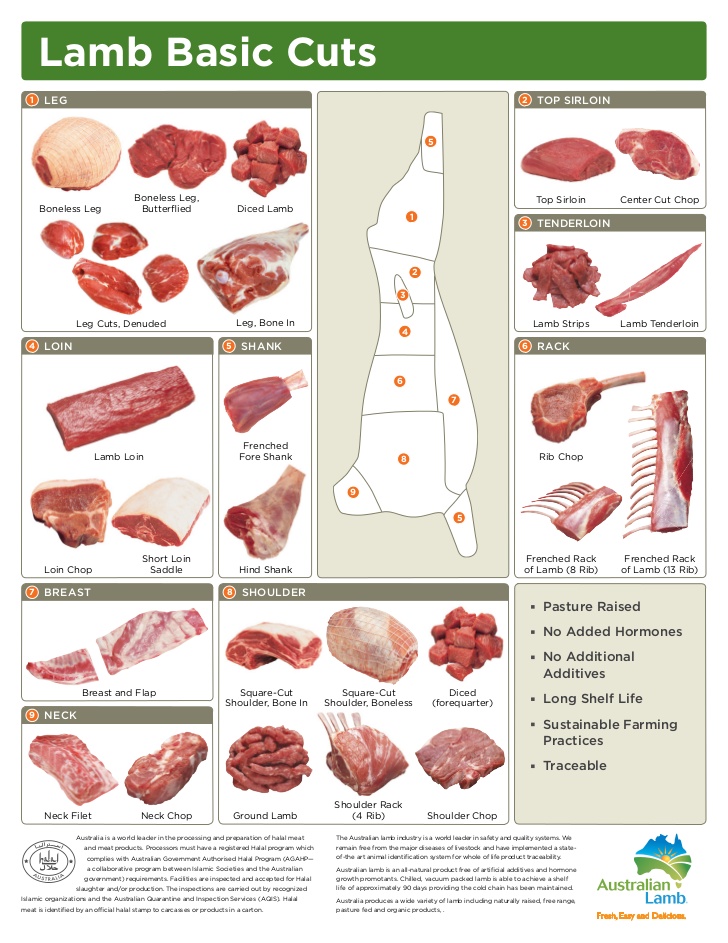 Kliek op foto om karkas snitte te beskou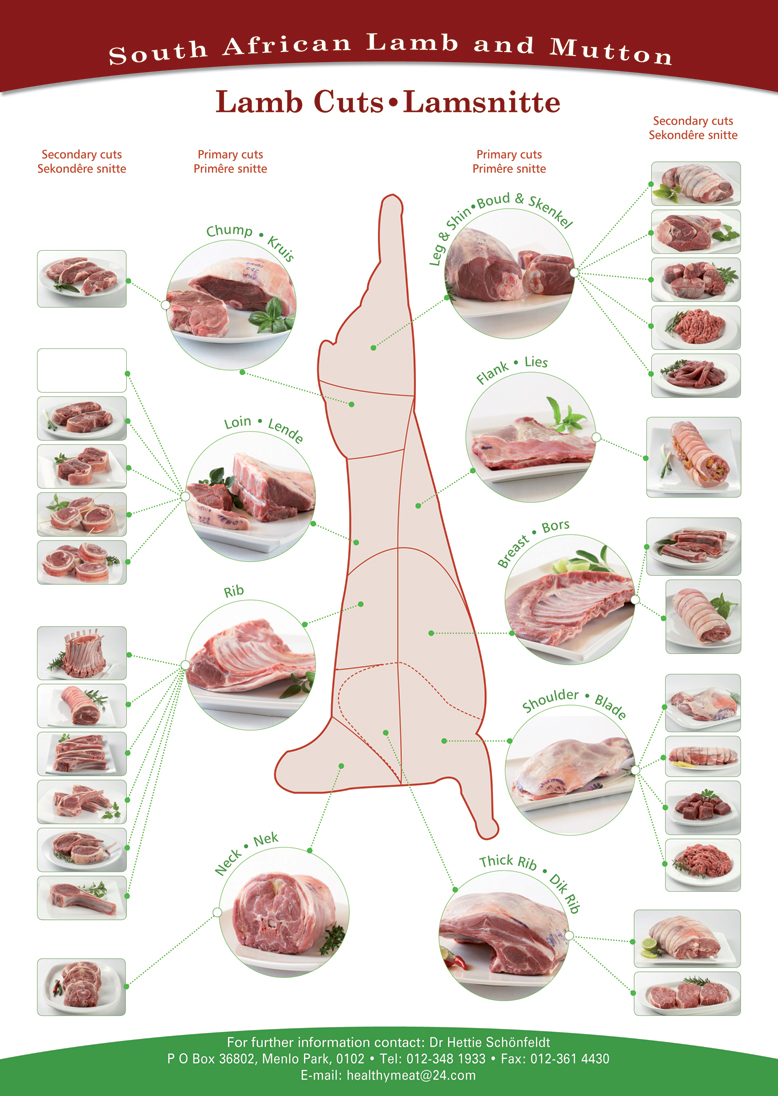 Klliek om meer te lees oor lams geregte per snit.